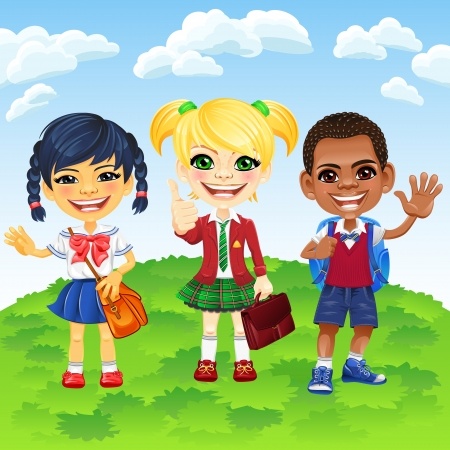 Since we're not with our kids 24/7, we must help them make good food choices all on their own. And you can start early! My upcoming talk about how to Optimize Your Child's Brain and Body Through Nutrition reminded me about an experience I had teaching Real Food nutrition to 7th graders last year.
I had a wonderful opportunity to spend time with four 7th grade classes at a local middle school. Mrs. Broussard, the 7th grade teacher, invited me to teach her students about Real Food nutrition. She had already included nutrition education from a mathematical point of view (how to count calories, how to burn off calories based on exercising, how many hours to burn that off, etc.) Mrs. Broussard is also a Real Food advocate, and wanted me to teach a more holistic perspective to eating and nutrition. So I came in with a very interactive lesson plan. I incorporated several videos, posed questions to students to elicit feedback, showed them a healthy lunch box and the breakdowns of each food category. I also talked to them about how to shop for Real Food and the major differences between processed, convenience food versus real, homemade food. We covered the dangers of sugar addiction, being aware of different colors on their plate, the 5 flavors of food, and the meaning of being hungry as opposed to eating out of an emotion or an addiction.
The students all had wonderful answers, questions, and feedback. One child was devastated to find out that mac and cheese had pasta in it. I was explaining that eating all "white" foods all the time, like mac and cheese, pizza, and bread doesn't provide you with a balance of nutrients and flavor. And to that, students were incredulous that I would consider mac and cheese "white" and corrected me that it was "yellow". I was perplexed, so I told them, "Well, there's white pasta underneath the cheese, right?" (Sort of tells you how important it is to educate our kids about what's in their food. Mac is "macaroni", a definite pasta product!) What I was shocked to find out was that if you eat mac and cheese from a box, it's all yellow. (Explanation: I'd never eaten mac and cheese from a box, having grown up in Japan, and on the rare occasion that I make mac and cheese as an adult, I grate my own parmesan cheese onto pasta, so it's all "white" in color to me.) On top of that, in boxed mac and cheese, the yellow is super-yellow. Not usually an indication of healthy nutrition! So students and I both learned a lot about nutrition.
I taught the children to shop the perimeter of the supermarkets because that is where you find "real food". Kids again were perplexed, so I broke it down further for them. "Real food is food that needs refrigeration, that actually starts to mold if you don't refrigerate it. Anything that can last on a shelf in a box for years is processed food." The aaahs and the lightbulbs that went on after this revelation was music to my ears.
In regards to the 5 flavors, I taught them that they should have 5 different flavors on their plate: sweet, salty, sour, spicy and bitter. This will guarantee that a child is eating foods from many different food groups as well as even food processing styles, like sour will most likely be a lacto-fermented food (like sauerkraut or kimchi). These foods are incredibly high in naturally-occurring probiotics and lactic acid, which both aid in digestion of foods. Same goes with eating a colorful plate. We can learn something from the Japanese here. I remember growing up as a child, my Japanese aunt (I lived in a multi-generation house at one point) used to count on her fingers as she thought about how many colors of foods were on the plates for our dinner. She'd be counting "green from the spinach, purple from the eggplant, red from the chicken, white from the rice" and so forth. She always made sure there were 5 colors represented. So if you follow this, like with the 5 flavors, it will help to ensure you and your child are eating a variety-filled meal each time.
I know I only came in for one day, teaching 50 minutes of nutrition per class. These students learn all kinds of important things the rest of the year. But my hope is that I was able to plant even one new seed, nurture one new outlook. That's all I ask. By looking at food differently, our children will follow a different health trajectory than the one of deterioration that an alarming percentage of Americans experience today.
Thanks Mrs. Broussard and the 7th graders for letting me come and teach your wonderful class! And a major kudos to all the teachers out there. They teach day in and day out with very little recognition, often under immense stress from administration as well as from students with behavioral issues. But they do it because they love what they do and they too want to make a major difference in the lives of our children. Big hats off to teachers!!